ASPIRE Welcomes Summer Fellow from Austrian Marshall Plan Scholarship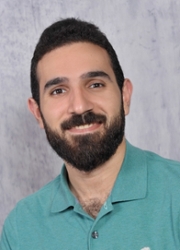 Posted: June 18, 2020
By Rowan Converse and Irene Gray
This spring, the Center for the Advancement of Spatial Informatics Research and Education (ASPIRE) welcomed Mohammad Sa'doun as a visiting researcher under a Marshall Plan Foundation fellowship. The Marshall Plan Foundation was established in Austria to promote cross-cultural exchange with the United States, particularly collaboration in the sciences, and funds travel research fellowships to support this mission.
During his summer fellowship, Sa'doun will be collaborating with ASPIRE on a US Fish and Wildlife funded project to develop an automated method of detecting and counting migratory birds in drone imagery and testing multiple machine learning methods to optimize the accuracy of counts.
ASPIRE (and its prior incarnation, the GIScience and Environmental Management Lab) has participated in several exchanges with Austria's Carinthia University of Applied Sciences over the past several years. During the summer of 2019, ASPIRE hosted Thomas Schneider whose research focused on creating accurate 3D models of grape vines using drone imagery to help farmers estimate projected yields throughout the growing season. 
ASPIRE's relationship with the Austrian Marshall Plan Scholarship has also created significant opportunities for current UNM GIScience masters students. Dan Beene, Jesse Sprague, and Andrew Loerch all traveled to Carinthia University for summer fellowships in 2018, 2017, and 2016 respectively. Beene and Loerch have both published journal articles on their fellowship research, and Schneider currently has work from his fellowship in press. Additionally, incoming ASPIRE PhD research assistant Blair Mirka was also awarded a Marshall Plan Fellowship and participated in an exchange to Carinthia University in 2019 as a master's student at San Diego State University.
The unique collaboration afforded by the Austrian Marshall Plan Scholarship cannot be understated, as it has not only enhanced the education of current students but has also allowed us to forge strong relationships with students outside of the United States that will only strengthen future research in the field of GIScience.