Internationally recognized short course makes its new home at UNM
Posted: September 2, 2021
by Irene Gray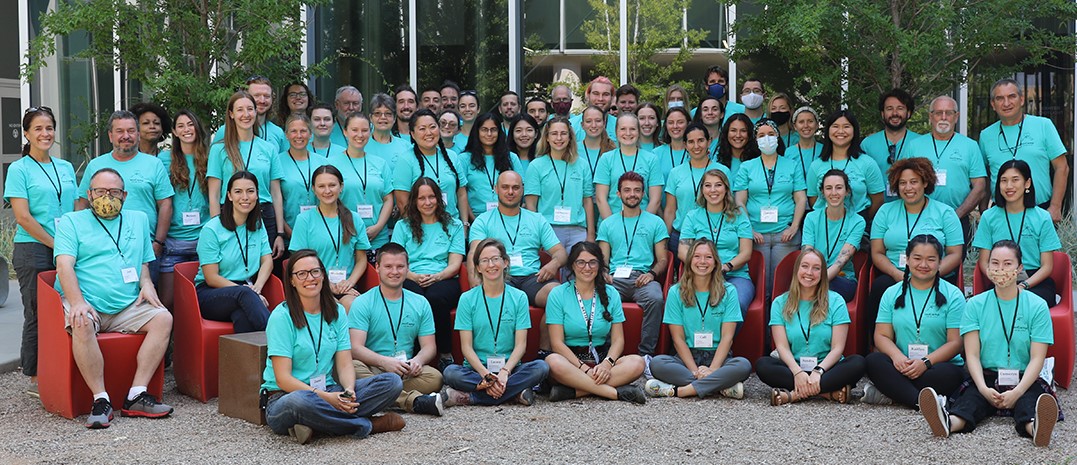 After 25 years at the University of Utah, UNM's Center for Stable Isotopes (CSI) has been given a unique opportunity to develop future leaders in science from across the country – and around the world.
Started by Professors Jim Ehleringer and Thure Cerling of the University of Utah in 1996, IsoCamp is a two-week short course that was intentionally created to show students from different disciplinary backgrounds just how broad the field of stable isotopes really is. Because isotope facilities are not readily available at every university campus, IsoCamp also serves as an educational resource to students interested in expanding their knowledge about stable isotope analysis.
More importantly, it has created a strong community of approximately 1,000 alumni who have built companies together, produced multiple publications together, and have formed incredibly special bonds with one another.
CSI was originally supposed to launch the first year of IsoCamp at UNM in 2020 but had to cancel for the first time in its history due to the pandemic. From August 2 - 13 of this year, however, they were able to safely execute the course with 35 in-person students and 14 virtual students from 42 universities spread throughout the country and the world. Additionally, 25 instructors from 17 universities also presented both in-person and virtually throughout the two weeks.
Professor Zachary Sharp, director of CSI, reflected on the course's first year at UNM, "There was a lot of hand-wringing and animated discussions about whether we should go forward with this after cancelling it last year. What we would do if it all shut down again? A lot of planning and effort went into this, and we wanted to get it right. In the end, it was a total success. The student's level of enthusiasm for the course was off the charts."
Ehleringer and Cerling were two of the guest faculty present to help launch IsoCamp's inaugural year at UNM. A biologist and geologist, respectively, Ehleringer and Cerling thought that their own experiences learning from one another could be replicated through IsoCamp by opening students up to the broad range of possibilities the field offers.
As Cerling says, hosting IsoCamp is "an investment in the future of the field." Much of the research taking place in CSI's lab had to be put on pause for two weeks so that the students could use their equipment and so that faculty could be available to them for support.
By bringing together 1st and 2nd year graduate students in biology, anthropology, geology, ecology – the list is endless – IsoCamp provides students with the opportunity to gain a deeper understanding of the practical applications in the study of stable isotopes.
Over the course of the two weeks, students not only got to receive hands-on learning in one of the greatest stable isotope facilities in the world, but got to do so in a state with boundless options for a variety of samples.
"There are things that you can do here in New Mexico that we can't. Your ecological diversity is fabulous: river, mountain, alpine, urban agriculture…there's lots of opportunity to collect samples they need very quickly. They're not traveling for hours," said Ehleringer.
The significance of New Mexico's ecological diversity lies in its application.  A stable isotope has a nucleus that does not decay over time. They come in varying atomic masses depending upon the number of neutrons present which ultimately allows researchers to gather an incredible amount of data in regards to age, diet, the surrounding environment – and even how animals have migrated throughout history, among many others. They literally allow us a peek into the past.
According to Ehleringer, there's an even larger learning opportunity beyond the students' experiences in the lab and the field, "Lectures are a minor component. The big part is developing connections and community. Getting to know others that are peers; learning how to network and connect. That's an important part."
Cerling adds, "Often, the students will meet one of the faculty and say, 'I'd like to measure that but we can't do that at my institution. Can I come to your lab...and work things out?' We've had a number of those where…people can go to a different institution and learn how things are done in a different lab."
Throughout the two weeks of courses and field work, students had the opportunity to get to know one another through multiple activities including an Isotopes game, a picnic in the Jemez, and meals out in Albuquerque together. Because of the pandemic, every effort was made to ensure that this was all done safely. Everyone who attended was vaccinated, masks were worn, and the classroom space provided was large enough to keep everyone six feet apart from one another.
Despite this challenge, IsoCamp students still managed to make the connections that the course encourages. Some got tattoos to celebrate their experience here in Albuquerque. Some are going on to continue their studies by working in the labs of some of the greatest experts in the field. Everyone made new friends and are now part of a large community of researchers that they will remain connected to throughout their careers.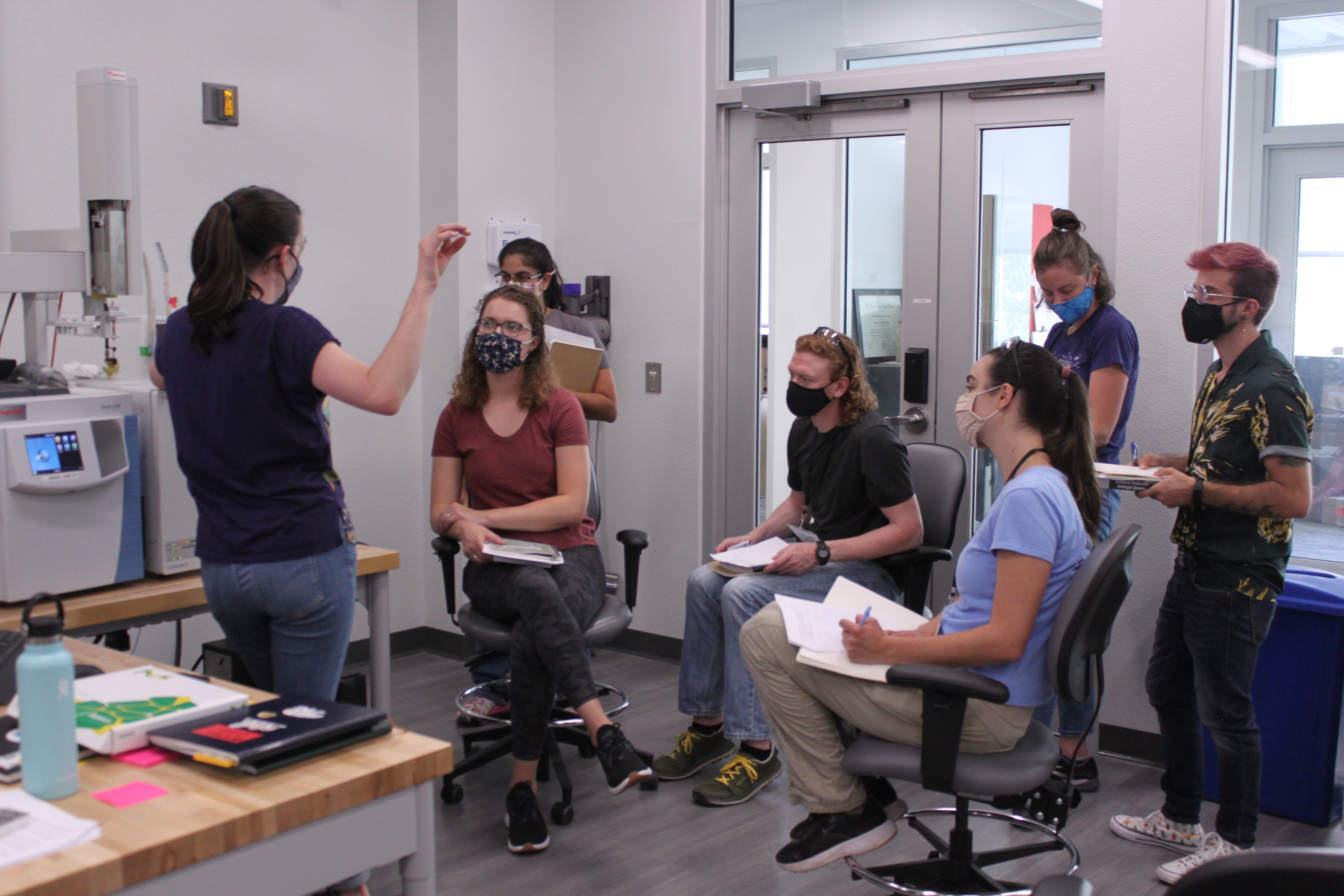 Matthew Tietbohl from the King Abdullah University of Science & Technology in Saudi Arabia is one student who will be expanding on his experience at IsoCamp by continuing his studies at CSI over the course of the next few months. He says, "I believe I have learned a lot about different isotope analysis techniques that were far from my normal wheelhouse of the isotope research I am most familiar with. It was great to learn about these different techniques and isotopes that could be useful as a tool to help me understand my research questions, namely fish ecology."
Malia Smith, a PhD student at the University of North Carolina at Wilmington also attended IsoCamp this year, and said, "The experience I had at IsoCamp was one I will never forget and I am so thankful I was able to attend this year. I gained so many new friends and connections that will last outside of the course, and I know IsoCamp will continue to thrive under its new direction at UNM."
Associate Professor, Seth Newsome, who is also the associate director for CSI, summed up the experience by saying, "We feel honored to have the opportunity to continue the IsoCamp legacy here at UNM. I want to thank the founders of the course and all of the instructors that have dedicated their time and energy to make IsoCamp a unique learning experience. The new PAÍS building and our labs in the Center for Stable Isotopes are the perfect venue for this hands-on short course, and we look forward to many more years of hosting IsoCamp." 
Link: IsoCamp website